A TASTE OF HISTORY IN YOUR SMOKED SALMON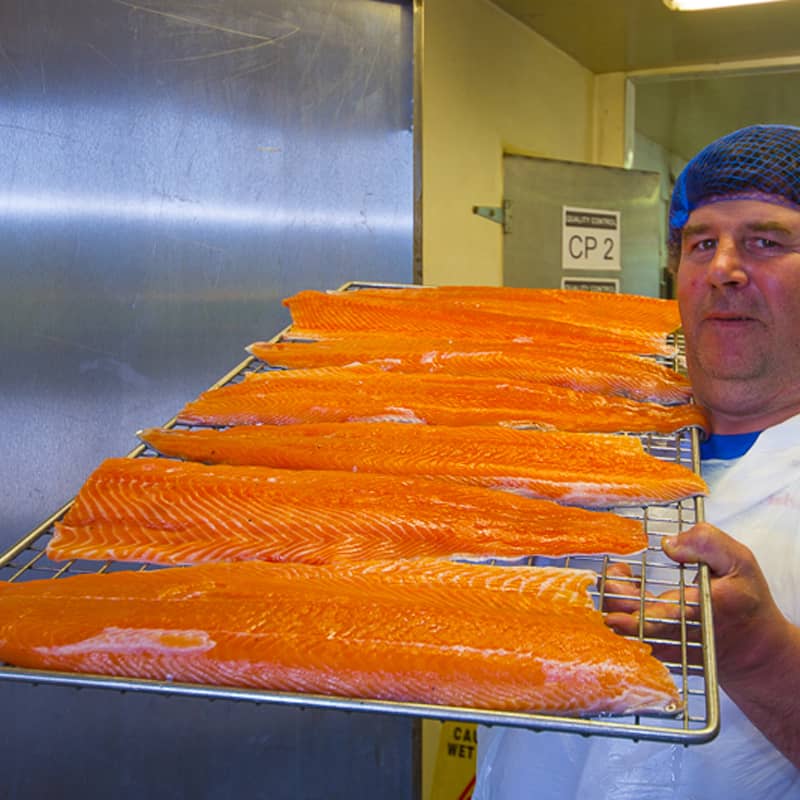 Ballyhack Smokehouse, located in County Wexford, is a proud family run business. The Walsh family's fishing expertise has been handed down for five generations; ensuring that our renowned highest quality product and respect for sustainability is paramount. We like to go to every extreme to ensure that this philosophy is maintained.
Fish were traditionally caught by driftnet, and men from the village returned home from the U.K. and USA from February until the salmon season ended in August. With great enthusiasm, little else was spoken about. Salmon, was nearly one the first words uttered by many of the youngsters in the village.
The Walsh's were all fishing for salmon from the age of 9 or 10. It was considered an honour for a boy to be allowed to carry the fish by the gill up to the local shop for sale. If the boy was not big or strong enough to stop the tail from touching the ground they were given a smaller fish to carry until they were tall enough to handle the larger salmon.
There is also a long tradition of smoking fish in Passage East (directly across the river from Ballyhack on the Waterford estuary). In those days there was an abundant supply of wild salmon, with some of the local fishermen making their catch and smoking it, in what would now be called, the artisan fashion. Salmon was traded between the villages as a delicacy and special treat.
Wild salmon are sourced from a local registered salmon supplier who has a life- long history of fishing and handling salmon. He is passionate about the presentation and quality (weight & flesh) of each salmon he supplies. Driftnet salmon fishing was closed in Ireland in 2006 and there are only a limited number of rivers open.
The season runs from mid May to the end of July. Snap-net method of fishing is now used to catch this valuable and increasingly rare commodity. Tags are issued to these select few fishermen who respect these rivers. Salmon are chilled on ice immediately after being caught and are delivered to the buyer on the same day to ensure that the integrity of the fish is maintained. Ballyhack Smokehouse has a limited supply of wild Irish salmon.
5 GENERATIONS OF KNOWLEDGE
Michael Walsh has learned and perfected the art of smoking. He set out on a mission to revive the traditions of his boyhood and the stories told to him by his late father and neighbours, to create the unique flavorful memories of a time gone by. Without pretense or ostentation. Being gifted a magnificent smoker used in the 1950's, gave Michael the necessary equipment to harness the delicate intensity to smoke a truly original product.
He has worked tirelessly to bring together a magnificent blend of tradition and heritage, combined with his knowledge & expertise, to ensure that his product is unique,authentic & natural and can be described as truly artisan.